I've been asked to speak at two events for this weekend's Harlem Book Fair…both this Saturday, back-to-back.
The first event, with African Voices magazine, is about how to use the Internet to sell your books. I have a popular email marketing service company (www.putonblast.com) and it houses over 30,000 subscribers. We service alot of authors and other independent creative people. That may have something to do with why friend and colleague CAROLYN BUTTS extended the invitation 🙂.
The second event is with client YVONNE BYNOE, right after the first panel. She is the editor of a book about motherhood (among other books). I am the editor of a book about fatherhood. Together, we will chat about our experiences on delving into this chapter. Her unique experiences as a mother, and my unique experiences as a daddy's girl navigating through stories of fatherhood should make for an insightful exchange.
Both events are free and open to the public! See details below…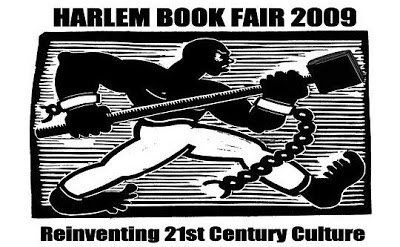 DOIN' IT: PROMOTING & SELLING YOUR BOOK ONLINE
Date: Saturday, July 18, 2009
Time: 1:30 noon – 2:45pm
Location: Auditorium at Countee Cullen Library
(located at corner of W. 136th and Malcolm X Blvd., NYC)
African Voices magazine will host a discussion on the resources available for authors to successfully use new technology to promote and sell their book online. Guests will include a panel of publicists, authors, and other professionals who specialize in Internet marketing – everything from blogs, e-newsletters, social media networking, and the use of mobile phones will be covered in this exciting presentation. Learn how to get the word out about your book without having a multi-million dollar marketing budget!
Maitefa Angaza, the managing editor of African Voices and author of "Kwanzaa from Holiday to Every Day," will moderate the panel. There will be a question and answer session and the event is free and open to the public.
Panelists:
Lisa C. Moore, founder and editor of RedBone Press, which publishes work celebrating the culture of black lesbians and gay men and promoting understanding between black gays and lesbians and the black mainstream.

Marcia Pendelton, founder and president of Walk Tall Girl Productions, a New York-based marketing and group sales company that makes the performing arts accessible to racially and culturally diverse audiences.

Jeff Rivera is one of the most sought after Black-American speakers on New Media and Publishing. Jeff is an expert on New Media and is on the cutting edge of the new digital direction of publishing.

April R. Silver (see bio on this blog site)
————————————————————-
Author Talk with YVONNE BYNOE
with Special Guest APRIL R. SILVER
Date: Saturday, July 18, 2009
Time: 3:30 – 4:30 pm
Location: Thurgood Marshall Academy
200 W. 135th Street ~ New York, NY 10030-2802
(at Adam Clayton Powell Blvd.)
An AUTHOR TALK with Yvonne Bynoe, editor of anthology "Who's Your Mama? The Unsung Voices of Women and Mothers" (with a Foreword by Rebecca Walker). Special Guest: April R. Silver, editor of the anthology, "Be A Father To Your Child: Real Talk From Black Men on Family, Love and Fatherhood"
DESCRIPTION: "A lot of books about motherhood have been written over the years, but they've been mainly about affluent, married White women. The picture is bigger than that. Author and life coach, Yvonne Bynoe will discuss her anthology Who's Your Mama? The Unsung Voices of Women and Mothers, a collection of essays about motherhood from a racially and economically diverse group of Hip Hop generation women, single, married, partnered gay and straight. Bynoe is the author of Stand and Deliver: Political Activism, Leadership and Hip Hop Culture and the Encyclopedia of Rap and Hip Hop Culture. She is also the founder of SophisticatedWomanandMama.com, a company dedicated to empowering working mothers."
As an extra bonus Yvonne and April will discuss how the Hip Hop generation fathers and mothers are changing our country's narrative about parenting and partnering.