AKILA WORKSONGS PRESS ROOM
(featuring news from select clients and special projects)

NOVEMBER 28, 2022 | BYRON HURT'S HAZING FILM GARNERS NEARLY 1.5 MILLION VIEWS ON PBS' INDEPENDENT LENS
Brooklyn, New York - - Award-winning filmmaker Byron Hurt, founder and CEO of God Bless the Child Productions, announced today that Hazing has garnered nearly 1.5 million views on PBS' Independent Lens according to ITVS. Audiences tuned in online via PBS's website, PBS's video app, as well as via the television broadcast, which premiered nationally on September 12, 2022.
Hurt reflects on the Neilson rating report: "I am grateful for the nearly 1.5 million people who have already turned in to watch Hazing. These numbers seem to suggest that this subject matter has resonated with people from all walks of life nationwide. The most important thing I wanted to accomplish with this documentary was to create a deeper level of awareness about the hazing culture while simultaneously honoring the families and survivors. We didn't know what to expect regarding viewership because of the nature of the film but I'm glad that people decided to watch the film for themselves."
Hazing streams on the PBS Video App until Sunday, December 11, 2022. It is also available to watch until December 11, 2022, via the PBS website: https://bit.ly/watchhazingfilmpbs.
NOVEMBER 14, 2022 | WRITING WORKSHOP FOR ELDERS CELEBRATES LATEST ANTHOLOGY WITH A BOOK LAUNCH
Brooklyn, NY -- The Center for Black Literature at Medgar Evers College (CBL) will present a special event featuring members of the Dr. Edith Rock Writing Workshop for Elders program. Thirteen writers from New York City and beyond are featured in Tales of Our Times Anthology. The Year 2020: Looking Back for Healing, Looking Forward with Hope. The recently published anthology (Fall/Winter 2022) will celebrate the upcoming twentieth anniversary of the workshop in 2023 as well as insightful and sometimes humorous reflections from a special population within the larger African American community—writers 60 years and older.
The free, in-person event will take place on Wednesday, December 7, 2022, from 4:00 pm to 6:00 pm ET at Medgar Evers College (in the Edison O. Jackson Auditorium located at 1638 Bedford Avenue in the Crown Heights neighborhood of Brooklyn, NY). Attendees will enjoy select readings from the anthology, a discussion followed by a question-and-answer session, and a book-signing. All are welcome to attend. Click HERE to register.
➡️ Visitors to Medgar Evers College, including to this public event, must show proof of a COVID-19 vaccination in order to participate.

⭐ Updated October 11, 2022 | Greg E. Carr, Edwidge Danticat, Nikole Hannah-Jones,Karen Hunter, Talib Kweli, Cornel West, and Honorary Chairperson SONIA SANCHEZ Celebrate and Support the 20th Anniversary of the Center for Black Literature
Brooklyn, NY -- The Center for Black Literature at Medgar Evers College of the City University of New York (CBL) announces its 20th anniversary celebration on Thursday, October 20, 2022. To commemorate this milestone, a special event, the  20th Anniversary Jubilee: A Cultural and Literary Arts Experience, will take place as an in-person event at Medgar Evers College in Brooklyn, New York. Sonia Sanchez, a longtime supporter of the Center, is the honorary chairperson for the celebration, and esteemed friends of the Center Greg E. Carr, Edwidge Danticat, Nikole Hannah-Jones, Karen Hunter, Talib Kweli, and Cornel West serve on the honorary committee. Some committee members will attend and give remarks in person. Vice President of the United States KAMALA HARRIS has sent a congratulatory statement to be read publicly at the Jubilee. Additionally, Members of Congress, New York State Assembly members, Council Members from the City of New York, the Mayor of New York City, or their official representatives will present proclamations at the celebration.
The Center also announced that the two honorees for the Jubilee celebration are TROY JOHNSON, president and founder of the African American Literature Book Club, for his literary activism and institution-building, and CHERYL WILLS for her work as an award-winning journalist, television host, and author for more than two decades. BET, Meta Business Partners, and Nielsen are corporate sponsors of the Jubilee. Tickets can be purchased, and donations can be made, via this link.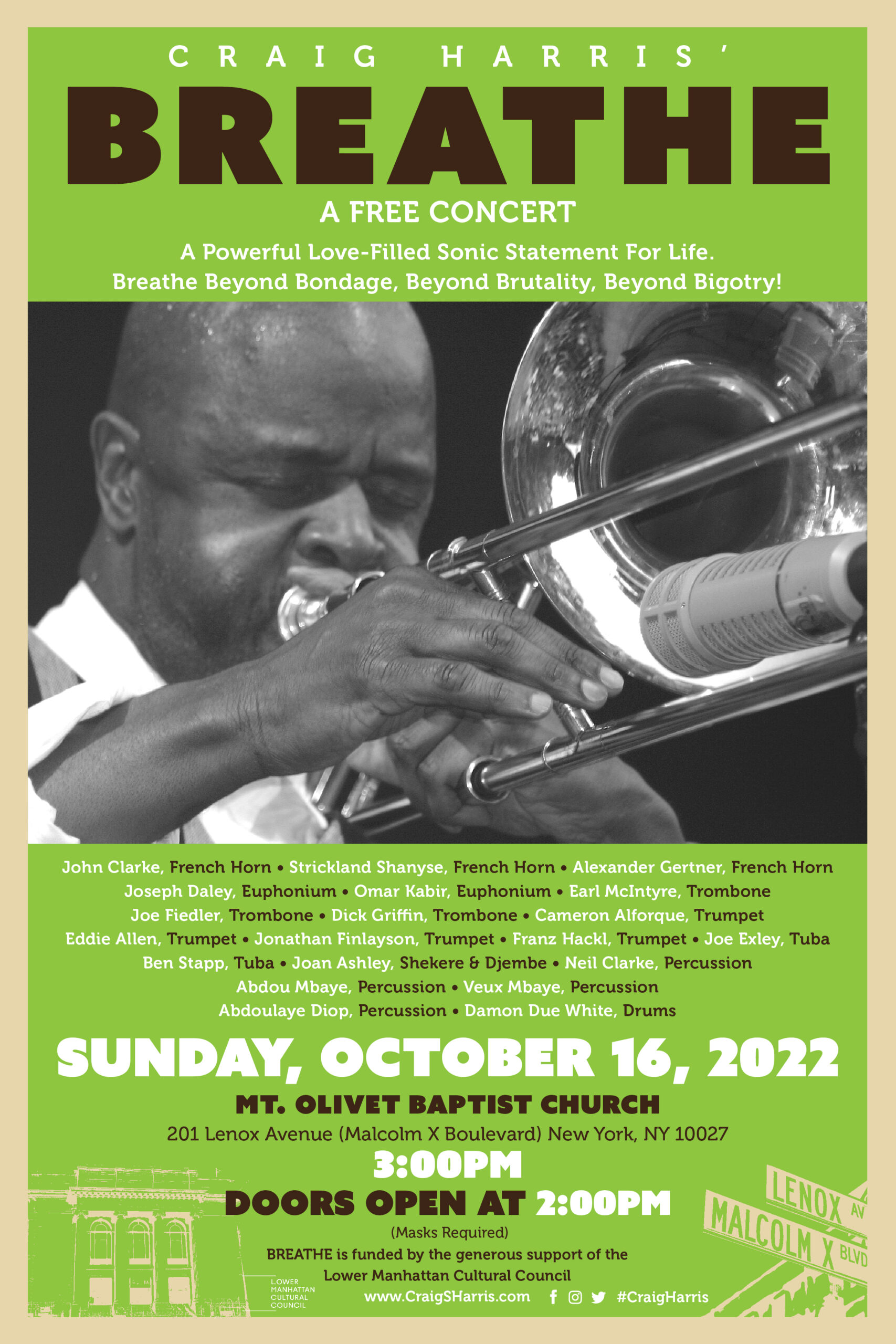 September 30, 2022 | CRAIG HARRIS "BREATHE" RETURNS TO HARLEM ON OCTOBER 16, 2022! FROM THE U.S. TO AUSTRIA AND NOW BACK TO HARLEM, HARRIS' FREE JAZZ CONCERT IS A BOLD CALL-TO-ACTION IN THE FACE OF SOCIAL INJUSTICE.
New York, NY - - This month Aquastra Media Productions and Arts & Education Continuum announced the return of BREATHE, a large ensemble free concert composed by pioneering trombonist Craig Harris. More than 20 musicians will come together on Sunday, October 16, 2022, at Mt. Olivet Baptist Church in Harlem to offer "a powerful love-filled sonic statement" in response to the long-term and current injustices inflicted upon African American people. BREATHE—conceived by Harris who is known as a "sonic shaman," is a reminder for the community to remain resilient in fighting for justice.
Mt. Olivet Baptist Church is located at 201 Lenox Avenue (Malcolm X Boulevard) | New York, NY 10027. The concert starts at 3:00 pm (doors open at 2:00 pm). BREATHE is free and open to the public. RSVP via Eventbrite is encouraged but not required. Register here. BREATHE is funded by the generous support of the Lower Manhattan Cultural Council.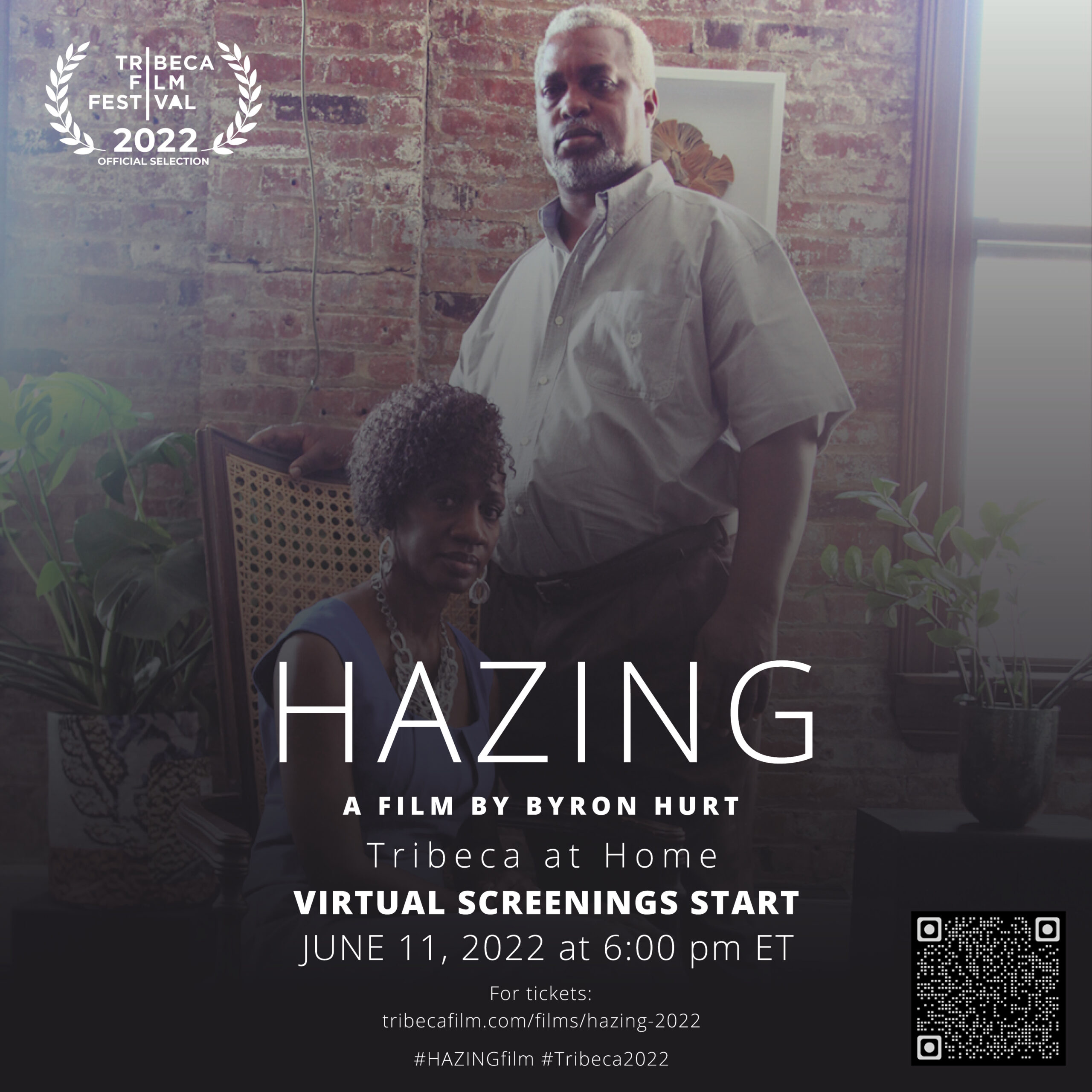 June 10, 2022 | WORLD PREMIERE at TRIBECA FILM FESTIVAL 2022! DIRECTOR BYRON HURT'S HAZING DOCUMENTARY FILM SHEDS LIGHT ON DANGEROUS AND SOMETIMES DEADLY HAZING CULTURE IN THE UNITED STATES
New York, NY - - Award-winning filmmaker Byron Hurt announced earlier this month that his highly anticipated documentary film HAZING will premiere at Tribeca Film Festival 2022. As a part of Tribeca's At Home Online Premieres and Juneteenth programming, the highly anticipated documentary will screen virtually for U.S. residents starting on Saturday, June 11, 2022, at 6:00 pm ET. The screening is a ticketed event for the public. For more information, visit https://www.tribecafilm.com/films/hazing-2022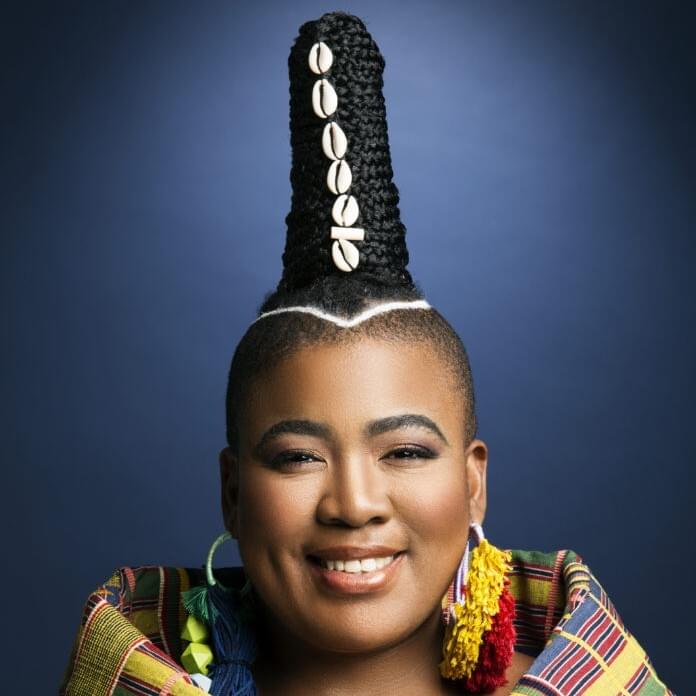 Released May 19, 2022 | South Africa's Favorite: Thandiswa to Perform Live at LIBATION June 4, 2022 in Brooklyn!
Brooklyn, New York – Thandiswa (pictured), Olatunji, ADH, and MKSAD will also perform at LIBATION, the kick-off performance for the 51st Annual International African Arts Festival. LIBATION is Saturday, June 4, 2022 (5:00 pm to 10:00 pm) at NYC College of Technology (located at 300 Jay Street, downtown Brooklyn). Details and admission https://bit.ly/libation2022.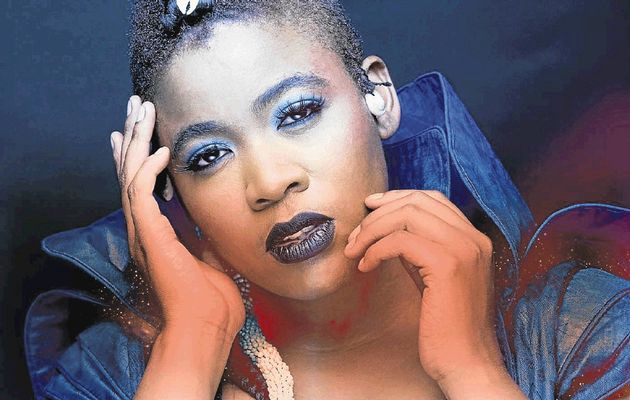 Released May 16, 2022 | "PINKSTER: JOY IS AN ACT OF RESISTANCE" IS A CONTEMPORARY CELEBRATION OF PINKSTER IN KINGSTON, NEW YORK! (Updated June 2)
Kingston, New York --- TRANSART & Cultural Services (TRANSART) announces its first annual Pinkster: Joy Is An Act of Resistance celebration with a three-day event that is rooted in the shared history of Ulster County residents and those who value African American traditions. It will take place Saturday, June 4 - Sunday, June 5, 2022, and Wednesday, June 8, 2022, at various venues in the Mid-Hudson Valley (Upstate New York). The program highlights are varied, dynamic, and include a day party, public discussions, reenactments, live performances, food tasting, vendors, and more! All programs are free (except the Sankofa film screening and discussion on June 8th featuring the award-winning pioneer director Haile Gerima).  For RSVP details and the full calendar of events, please visit: http://www.transartinc.org/pinkster
⭐ DID YOU KNOW? Pinkster, not Juneteenth, is the oldest African American celebration in the U.S?
Released May 13, 2022 | 'Getting Word: Black Literature for Black Liberation' Is Ready for Another Juneteenth Fundraiser
Brooklyn, New York – Five Black literary organizations—Cave Canem Foundation (Brooklyn, NY), Furious Flower Poetry Center (Harrisonburg, VA), The Hurston/Wright Foundation (Washington, DC), Obsidian: Literature & Arts in the African Diaspora (Normal, IL), and The Watering Hole (Columbia, SC)—have come together to announce their collective return to service and to reiterate the permanence of their mission. Their online fundraiser will officially go live from Juneteenth 2022 (Sunday, June 19) to Independence Day 2022 (Monday, July 4). Learn more at www.GettingWord.org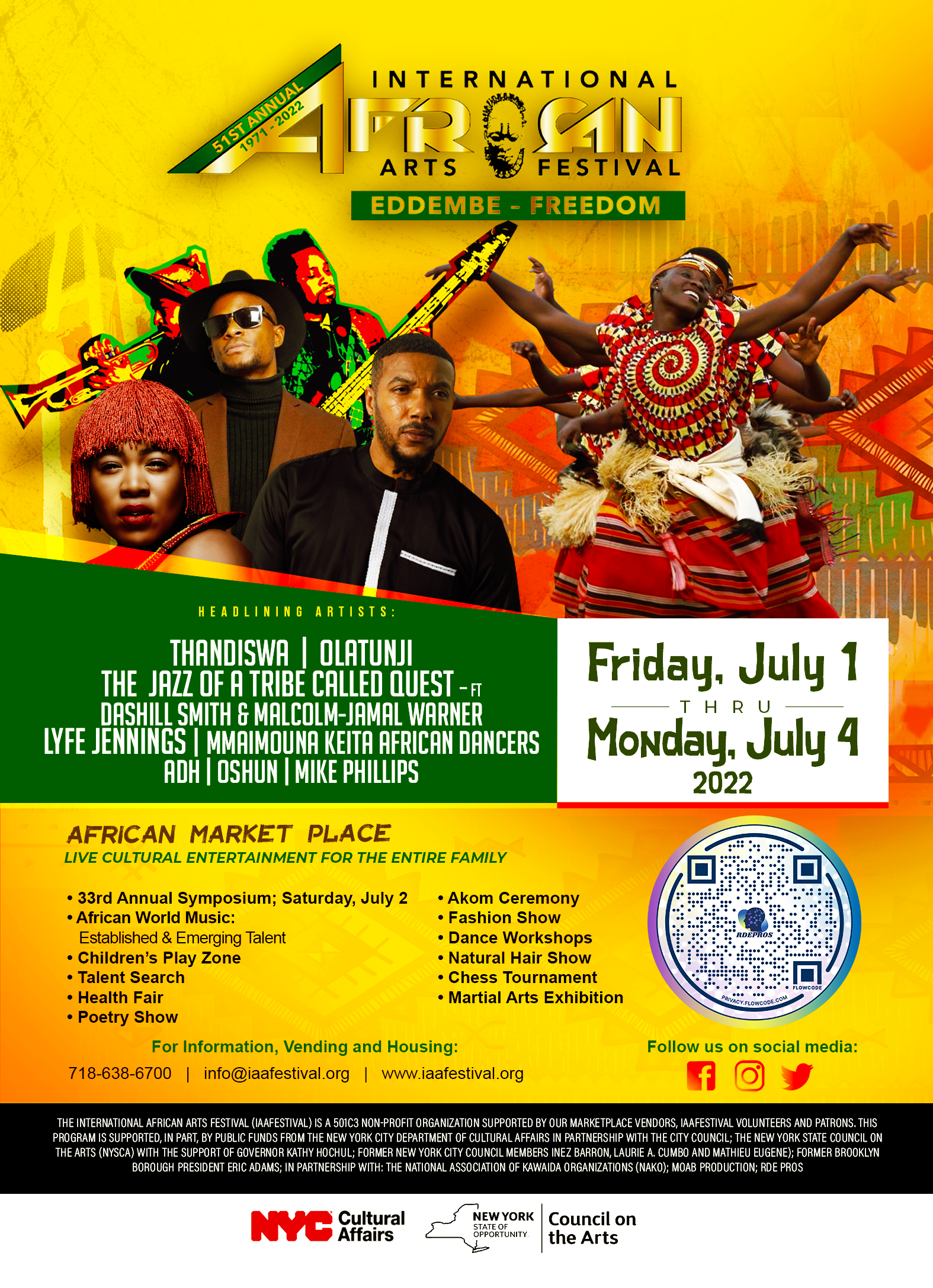 Released May 13, 2022 | The Festival Returns to Brooklyn: July 1 - 4, 2022!
Brooklyn, New York – International African Arts Festival, Inc. announced the return of  New York City's  longest running and most respected celebration of worldwide African music, dance, and culture. The International African Arts Festival (IAAFestival), founded in 1971, will take place at Commodore Barry Park in Brooklyn from Friday, July 1 to Monday, July 4, 2022, rain or shine (10:00 am to 9:00 pm). Thandiswa, the popular double platinum South African musician is headlining this year's Festival, along with Trinidadian AfroSoca artist Olatunji; The Jazz of a Tribe Called Quest featuring Dashill Smith and Malcolm-Jamal Warner; R&B sensation Lyfe Jennings; and Oshun. Other headliners are saxophonist Mike Phillips, dancers from the legendary Maimouna Keita School of African Dance (MKSAD), and ADH. Other performers include the groups Alura, Taifa Bartz, Nubian Messengers, PitsiRa, The Shaka Tonge Experience, and others.
Released May 2022 | In Case You Missed the National Black Writers Conference!
The Center for Black Literature at Medgar Evers College, CUNY (CBL) invites the community to watch video highlights from the historic 16th National Black Writers Conference (NBWC2022) held virtually earlier this spring. They've curated four days' worth of powerful presentations and roundtable discussions from some of today's most celebrated writers.Here's an opportunity to revisit (or watch for the first time) the highlights from the highly praised Conference. Throughout the day, the video highlights will be paired with live, interactive conversations from our audience in real time. To close out the day, CBL will also present a live roundtable discussion, featuring scholars Karla FC Holloway and Obery M. Hendricks Jr. All are welcome! Registration is required. Register via Eventbrite HERE.

Updated March 10, 2022 | NEWLY CONFIRMED: Kevin Powell, Karen Hunter, and Others!
Brooklyn, NY --- The Center for Black Literature at Medgar Evers College of the City University of New York (CBL) announce that the 16th National Black Writers Conference (NBWC2022) will be held, virtually, from Wednesday, March 30 to Saturday, April 2, 2022. This year's theme, The Beautiful Struggle: Black Writers Lighting the Way, will examine the ways that texts by Black writers document struggle and persistence, and light the ways for overcoming obstacles and surviving in a racially constructed society. Other confirmed participants include EDWIDGE DANTICAT, BRITTNEY COOPER, JELANI COBB, TRACY K. SMITH, MARC LAMONT HILL, MARITA GOLDEN, IBRAM X. KENDI, NIKKY FINNEY, BERNICE L. MCFADDEN, KIESE LAYMON, MARLON JAMES, SHEREE RENEE THOMAS, TONY MEDINA, and others!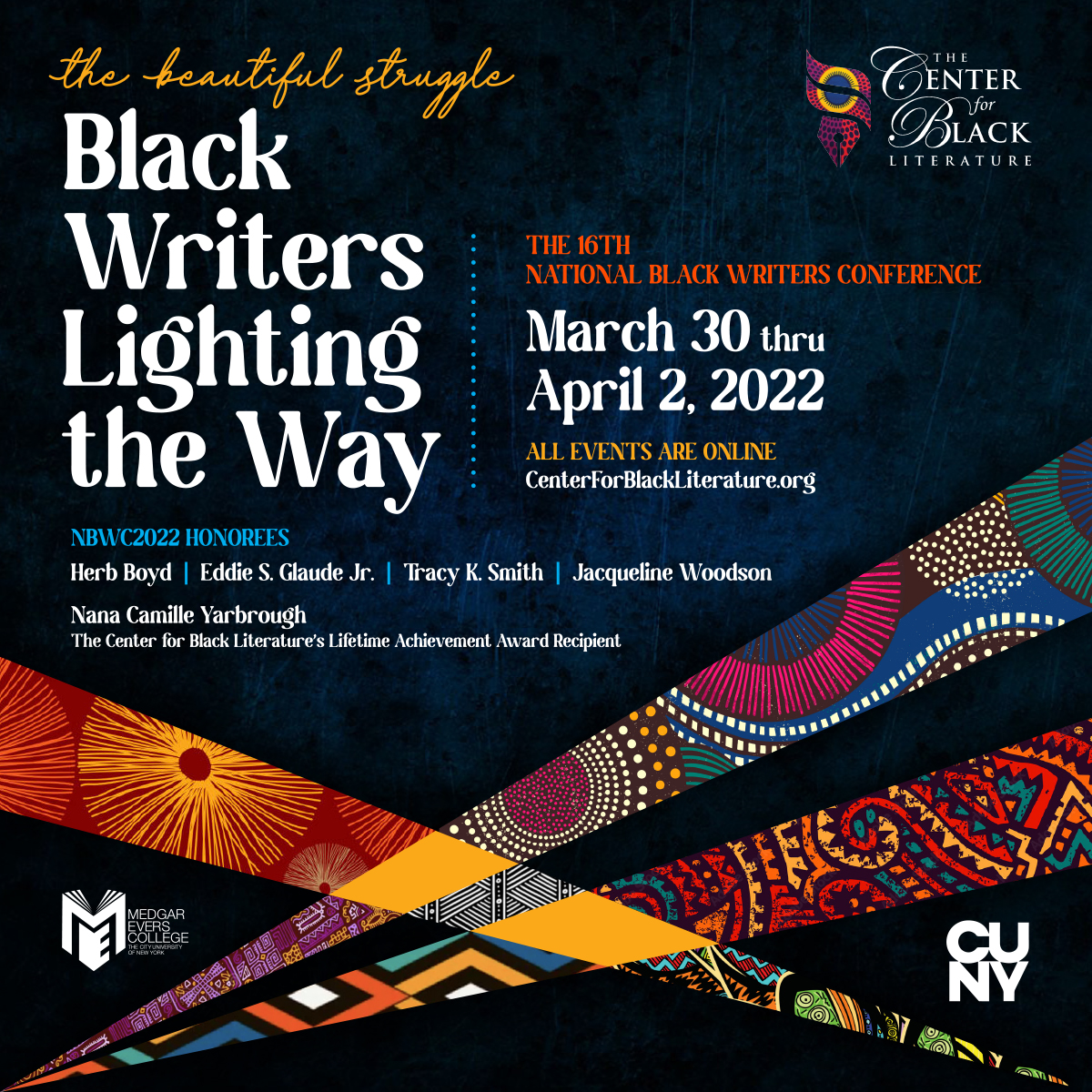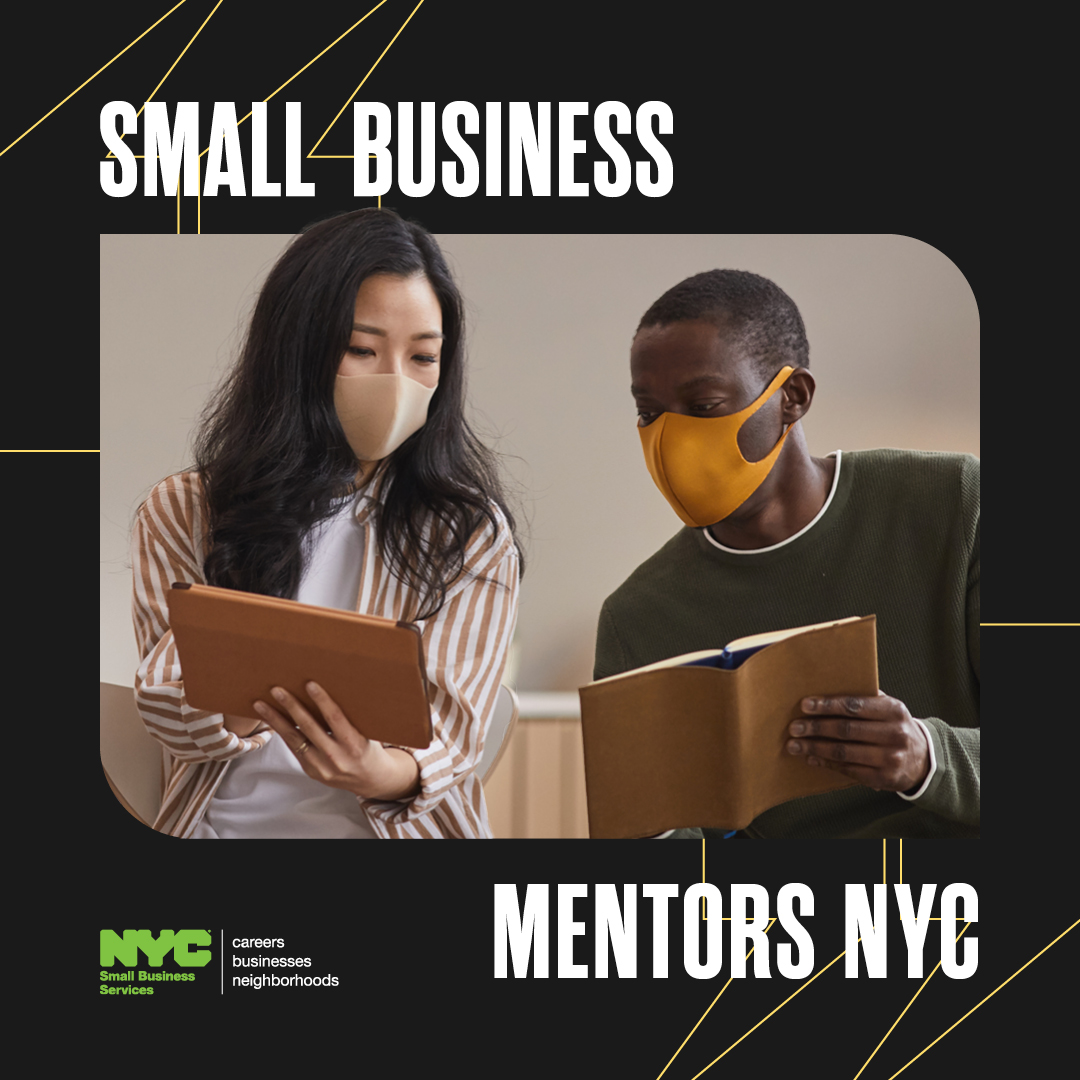 Released February 2022 | APRIL R. SILVER Selected as a MENTOR for NYC Business Owners (Spring/Summer Only)
New York City -- For a limited time only, our own APRIL R. SILVER (communications and marketing specialist; founder and CEO of AKILA WORKSONGS) will serve as one of the mentors for a special City of New York program, Small Business Mentors NYC. This is a program from @nycsmallbiz for existing storefront business owners [and other entrepreneurs who are] seeking to recover and grow their businesses. Visit www.smallbusinessmentors.nyc to learn more, meet the mentors, and sign up for a mentoring session. 
Small Business Mentors NYC is a mentorship program provided by the NYC Department of Small Business Services (SBS). The program, introduced by the Mayor's Taskforce on Racial Inclusion and Equity, will prioritize underrepresented business owners and neighborhoods.
ABOUT SBS: The NYC Department of Small Business Services (SBS) helps unlock economic potential and create economic security for all New Yorkers by connecting New Yorkers to good jobs, creating stronger businesses, and building thriving neighborhoods across the five boroughs.
Join the Ever Popular Put On BLAST! Email List