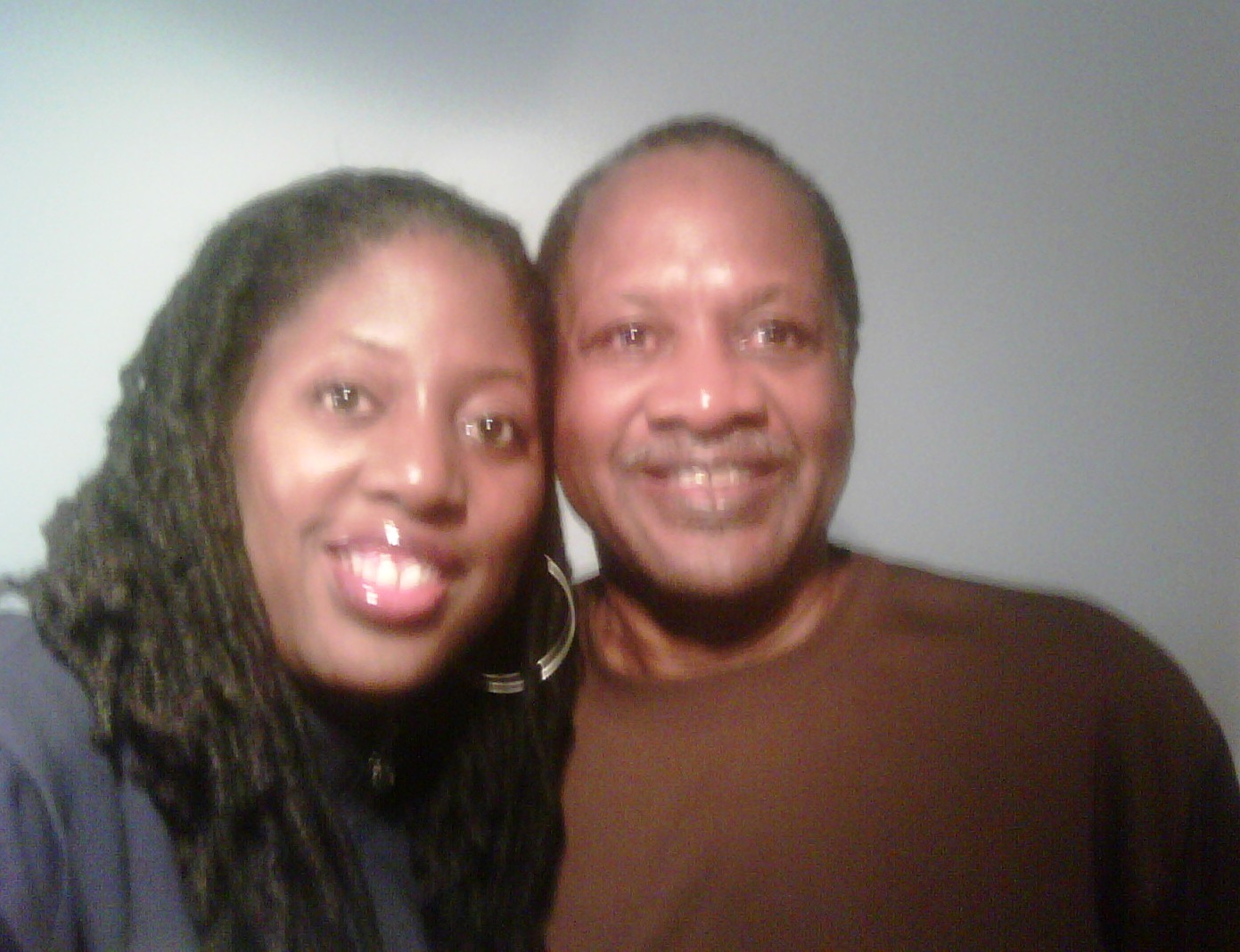 Late last summer, Words.Beats.Life invited me to write an essay about my relationship to my father and hip hop. It's not as weird as it seems. I'm publishing it here today for his b'earthday. Happy Birthday, Daidy.

Daddy's Girl and Her Music"
"Don't give up now, baby.
You're closer to your goal than you were yesterday." — Eddie Silver
I first heard these words from my father decades ago, and I don't remember exactly what we were talking about or when. I just remember how relieved I was in that moment to catch one of Mr. Silver's many pearls of wisdom. It's most likely that he was trying to help me figure out what to do with my life as I prepared to head off to college. That was a gut-wrenching period for me and I was overwhelmed and excited by the sheer scope of it all. At 18, I was gladly leaving Los Angeles to return to the East Coast to attend an all-Black university in Washington, D.C., but I was also fearful of starting a new life alone, without the immediate safe haven of my close-knit family.
Still, my game plan was airtight: I would go to college, get my degree in English, and become a successful writer at ESSENCE. In fact, I would become one of the magazine's most respected writers. Along the way, I would return to New York (where I was born) and begin working on the first of many books. I had no crisp idea of my subject matter, but I knew at least one of them would be Susan Taylor-esque. She would write my foreword, of course. That was my criteria for success, period.
"Daidy" (how my brother and I pronounce "Daddy" to this day), on the other hand, wanted me to study journalism and maybe become a television anchor. "You could be like a Connie Chung for Black people, big time on the big screen," he said. Even then, I suspected that I was too passionate for the field of journalism so I frowned on that career choice. Daidy was supportive regardless. Both of my parents were. College life was new territory for all of us and we were open-minded. My parents were banking on the fact that they had "raised me right," and so they gave me room to breathe. That was circa 1986.
Fast forward to 1989: Daidy finally got to see his daughter on the big screen. I was also in the local and national newspapers, in Ebony magazine, and all over the radio in D.C. and throughout the region. I'd even made international news. In fact, I was in the news quite a bit, but as a subject, not a journalist.
In early March 1989, I played a visible leadership role among the students who successfully took over the administration building (the "A" building) at Howard. We forged a non-violent student protest that shut down the school for three days. Picture unarmed occupying students in black tams, with more courage than fear, standing against police in riot gear, helicopters, SWAT teams, lights, cameras, and a herd of television reporters. We were the breaking news stories of the week (and as head of one of the student organizations that called for the protest, I was the designated spokesperson). To further buck the system and all its "nice" symbols, days before the actual takeover we had boldly interrupted the high-class pomp and circumstance of convocation. Bill Cosby was the keynote speaker. Surrounded by a sea of silk and velvet robes, we politely told Mr. Cosby that he had to get off the stage. We had some business to conduct with our beloved university. At that moment, I took the microphone and started breaking down our demands to a group of gasping elders. I was surrounded by defiant students–on the stage, in the aisles, in the auditorium lobby. Not exactly what Daidy had in mind, I'm sure.
But as any loving father would be, Daidy was focused on my total well-being. In the one or two times that I had a chance to call home to explain why I was all over the news, I had to assure my parents that I was safe (which wasn't entirely true). Daidy was less concerned about why we were organized against Lee Atwater (then the controversial chairman of the Republican National Committee and a newcomer to the board of trustees at Howard) but more concerned about whether or not we knew what we were doing, if I firmly believed in this cause. He, along with my mother, questioned why I was fighting against the school that I had come to love so much. I told my parents: "We're taking over the 'A' building because we love Howard. We know it can do better by us." That was enough for them.
* * * *
I doubt that Daidy was terribly surprised about how deep-rooted my convictions were or that they blossomed while away at school. He already knew their origins. It was under my parents' roof that I learned to think outside the box and to stand up for what I believe in. It was under their roof that my brother and I grew up studying Black history, beyond what was taught in our classrooms. And equally significant, it was my father's record collection that introduced me to the sweetness of being Black. I grew up somewhat obsessed with this collection, most of which I took with me when I went left home, unbeknownst to him. Whatever artist Daidy loved, I loved. Whatever song he knew, I sang. Whatever he had, I preserved. It was his Curtis Mayfield, Marvin Gaye, James Brown, Nina Simone, Isaac Hayes, Earth Wind & Fire and Hugh Masekela albums that helped me uncover the value of what Black people have created with our own talents and skills, be it music or institutions of higher learning such as Howard. It was the liner notes of his albums that I studied on Saturday mornings after the chores were done. Sprawled across the carpet, I played those songs over and over again, ear up close to the speaker, memorizing not just the lyrics but the names of the musicians, songwriters, and recording studios. I don't know why the back-stories for these albums were so important to me, even as a teenager. I didn't have plans for how to use this information. I realize now that this studying was my attempt to be totally immersed in the souls of Black folks via our creativity, something that I can now articulate from a spiritual context.
So by the time I first heard hip-hop music, I was primed for my lifelong journey into another level of Black genius music. My father's love of our music prepped me for Public Enemy, KRS-One, X-Clan, Queen Latifah, Poor Righteous Teachers, Sister Souljah (her 360 Degrees of Power was the first album on which I got my first shout-out), and many others. Daidy played a large role in why hip-hop felt so natural to me.
Rewind to 1982. I was as hooked as any other Sasson Jeans wearing teenager when Grandmaster Flash and the Furious Five released "The Message." So was Daidy. It seemed that everyone could relate. "Yeeeah! People do piss in the station like they just don't care. Broken glass is everywhere." As though he was relieved that somebody put his feelings to music, my father used "The Message" to affirm some cruel realities: Life is hard, especially for Black men, he taught me. Some people do live on the edge. Everybody is trying to keep from going under. "Your Daidy can relate." These conversations would sometimes be sprinkled with stories about how he used to hang out with Kurtis Blow when hip-hop was new on the scene. "Really?" I asked, all smiles. But in my head I was laughing out loud. "Sure, Daidy. You know Kurtis Blow.
* * * *
Life is hard. Growing up, I would come to understand this "thing" about being Black. As a child, I digested the music, television, and movies that seemed to prove that Black people were different from white people. We are at a deficit in this thing called "society" because of a thing called "racism." It seems that our lives warrant the need for constant reminders that we are "okay," or that we should not give up, or that we should stick together, presumably against white people or "The Man," because nobody likes us in this world. I came to understand that music was our healing ointment and it is an acceptable way for us to entertain ourselves, this so-called despised lot that we are. We can be affirmed and stay bonded with one another through music. "Ain't No Stoppin' Us Now" by McFadden and Whitehead (the Black people family picnic theme song during the 1970s), "We Are Family" by Sister Sledge (ditto), and so many other songs helped make our "different" lives bearable. Without thinking about it, I had come to an understanding that music, art and culture were supposed to be functional, not merely entertaining. We needed something just to get by if we were going to make it in this world and our creativity seemed to be as good a hook as any.
* * * *
I don't remember a great number of politically charged father-daughter talks growing up, but we have many now. And as a child, I don't recall Daidy telling many stories about him marching with Dr. King (though he did). There were certainly no social justice organizations that took up his time after work. That wasn't his thing. Daidy has always been a quiet, simple man who likes to cook, tend to his vegetable garden, read the newspapers, and have a good time. What was brilliant to me growing up, however, was the foundation that he helped provide. A visionary man of humble beginnings from Suffolk, VA, he took pride in his ability to help feed, clothe, and shelter his family. Often, we took family vacations so that our lives were well-rounded and meaningful.
As in any family, mine had drama too, but we had a sacred anchor and we remain committed to one another. Individually, our personalities and lifestyles seem incompatible, but where it matters most, we are fiercely unified. And that's how I relate to my community-at-large. We are worth the struggle and we are closer to getting what we want and need out of life, if we fight the right fight. That thinking sculpted my political behavior as a student activist when I co-founded the nation's first hip hop conference (there had not yet been any connection of hip hop to the academy); it sculpts the way in which I handle my business as a social entrepreneur who primarily services people of African ancestry. That thinking also drives me personally. Like a mad woman bridled with child-like giddiness, I'm excited to tell this particular Daddy's girl story, lest somebody keep telling a singular, narrowed–minded story about a generation of Black fathers and the music they made room for.
# # #
"Daddy's Girl and Her Music" was written at the request of Words.Beat.Life / www.wblinc.org. Stay tuned for when the edition featuring this essay will be published. Enjoy.