Let's Go HU!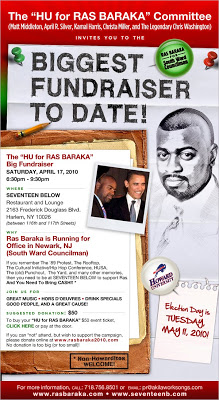 The "HU for RAS BARAKA" Committee
(Matt Middleton, April R. Silver, Kamal Harris,
Christa Miller, and The Legendary Chris Washington)
invites you to the
BIGGEST FUNDRAISER TO DATE!
SATURDAY, APRIL 17, 2010
6:30pm – 9:30pm

SEVENTEEN BELOW
Restaurant and Lounge
2163 Frederick Douglass Blvd.
Harlem, NY 10026
(between 116th & 117th Streets)
Ras Baraka is Running for Office in Newark, NJ (South Ward Councilman). So if you remember The '89 Protest, The Rooftop, The Cultural Initiative/Hip Hop Conference, HUSA, The (old) Punchout, The Yard, and many other memories, then you need to be at SEVENTEEN BELOW to support Ras. And You Need To Bring CASH!! *
Join us for Great Music • Hors d'oeuvres • Drink Specials • Good People, and a Great Cause!
Suggested Donation: $50
To buy your "HU for RAS BARAKA" $50 event ticket, CLICK HERE
or pay at the door. If you can *not* attend, please donate online at www.rasbaraka.com. For more information, call 718.756.8501 or email pr@akilaworksongs.com
www.rasbaraka2010.com • www.seventeenb.com
Election Day is Tuesday, May 11, 2010!
* Non-Howardites welcome 🙂