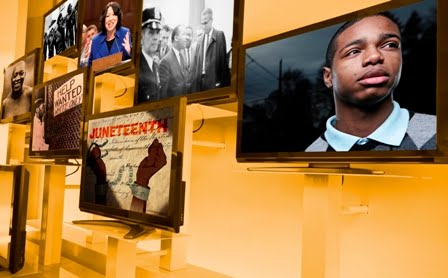 This Saturday (April 9, 2011), I will be speaking at the
Remixed and Remastered: Defining and Distributing The Black Image in the Era of Globalization conference at the
New School in New York City. The panel I'm on is entitled "Developing Brand Identity and Audience with Social Media." It's from 2:30-4pm.
A glance at just some of the other participants will reveal author and cultural critic Jill Nelson (keynote speaker); film critic Tambay Obenson; filmmakers Ava DuVernay ("I Will Follow") and Charles Officer; scholars Pearl Bowser, Fabio Parasecoli; and industry notables such as HBO's Greg Rhem and National Black Programming Consortium's Leslie Fields Cruz. The conference will include panels and workshops aimed to provide guidance on topics ranging from creating targeted outreach to audience engagement and distribution strategies, and much more.
The official word is that "the purpose of this conference is to forge and solidify relationships that will expand the scope and balance of black experiences portrayed in the media, create a platform for scholars and critics to engage each other, and for media-makers and industry professionals to further analyze ways to improve contemporary media representation and the global black image."
The conference is organized by New School professor and and media distribution consultant Michelle Materre. She affirms that

"The need for this conference
became apparent after witnessing the steady decline of outlets for filmmakers of color since the distribution company I helped to found 20 years ago, KJM3 Entertainment Group, released
Daughters of the Dust. Twenty years later, negative images persist and the acceptance and assimilation of Black images into mainstream media has ironically reduced access to commercial outlets for content creators of color."
Location:
Theresa Lang Community and Student Center
Arnhold Hall (2nd Floor)
at The New School
55 West 13th Street ~ New York, NY
It is free to all students from any college (with ID), as well as New School faculty and staff.
For more information and admission, please visit the conference website: www.newschool.edu/eventDetail.aspx?id=53655. For press inquiries, please contact Michelle Materre, materrem@newschool.edu, 212.229.5119 ext. 2393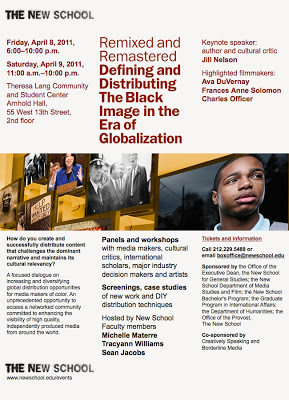 ABOUT THE NEW SCHOOL
www.NewSchool.edu
The New School is a legendary progressive university comprising eight schools bound by a common, unusual intent: to prepare and inspire its 10,510 undergraduate and graduate students to bring actual, positive change to the world. From its Greenwich Village campus, The New School launches economists and actors, fashion designers and urban planners, dancers and anthropologists, orchestra conductors, filmmakers, political scientists, organizational experts, jazz musicians, scholars, psychologists, historians, journalists, and above all, world citizens-individuals whose ideas and innovations forge new paths of progress in the arts, design, humanities, public policy, and the social sciences. In addition to its 88 graduate and undergraduate degree-granting programs and majors, the university offers certificate programs and more than 650 continuing education courses to more than 6,350 adult learners every year.